Listen to "ROBIN DESCAMP – Divorce Writer, Understanding the Pitfalls of Nasty Litigation Tactics" on Spreaker.
Robin DesCamp, Principal at DesCamp Legal Services in Portland, Oregon was a spotlight guest on the Impact Makers Radio Show, "Let's Talk Divorce!" series. DesCamp was invited to speak on issues surrounding, 'Why contentious divorce is bad for your family, your finances, and and mental health?'
With 16 years experience in the divorce industry, DesCamp also talked about why being a Divorce Writer and Family Law Attorney energizes her passion for helping individuals to achieve their divorce goals.
She went on to share some of the infrequently discussed obstacles, misconceptions and unknown pitfalls that individuals need to know when considering their options for divorce.
Prior to her interview with Radio Talk Show Host, Stewart Andrew Alexander, "My insights are based in large part upon a belief in true equality between men and women, including equal expectations, responsibilities, and accountability. I specialize in the complexities of divorce and all that goes with it: nasty litigation, custody issues, child support, alimony, and a host of post-dissolution problems that arise when families are rearranged."
The show concluded with DesCamp sharing a few of her most valuable tips for individuals wanting to avoid the repercussions of a contentious divorce process.
To discover more about Robin DesCamp, visit: http://RobinDescamp.com
To hear the full discussion on Impact Makers Radio, visit: https://ImpactMakersRadio.com/Robin-DesCamp
The information shared in this interview is for general information purposes only. Nothing during this interview should be taken as therapeutic advice, legal advice, and or legal assistance for any individual case or situation.This information is not intended to create, and receipt, listening or viewing does not constitute, an attorney-client relationship.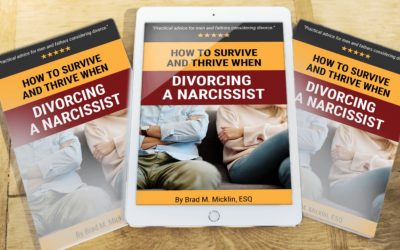 Living with a narcissist can be awful. Divorcing one is a nightmare. They're always right, want everything their way, and leave little room for compromise. How to Survive and Thrive When Divorcing a Narcissist offers…
read more