Listen to "NATHANIEL McKENZIE, CPA – McKenzie Forensic Group, Homestead, FL" on Spreaker.
Nathaniel McKenzie, CPA and Managing Partner at McKenzie Forensic Group, Inc in Homestead, Florida recently appeared as a featured guest on the Impact Makers Radio Show, "Let's Talk Divorce!" series where he spoke about "How to Prevent Your Spouse from Hiding Marital Assets During Divorce."
McKenzie shared why being a Certified Public Accountant kindles his passion for helping women to gain clarity around the financial aspects of marriage and went on to reveal some of the rarely discussed misconceptions, obstacles and unknown pitfalls that women need to know, such as the importance of working with a specialist, asking how long they have been in practice, how many cases they have had and what kind of results to expect.
McKenzie, prior to his interview with Radio Talk Show Host, Stewart Andrew Alexander, "Our family law forensic accounting services are designed to help our clients with the financial aspects of their dissolution of marriage, paternity, or other family law litigation. We start out by helping our clients with an analysis of their family's personal finances in order to determine the services needed and how they can be provided in the most economical fashion."
For more information about Nathaniel McKenzie, CPA and the Divorce CPA Firm, visit: https://www.Divorcecpafirm.com
The information shared in this interview is for general information purposes only and does not contain legal or therapeutic advice for any individual case or situation. Listening to or viewing the information on this website or any of its resources does not constitute an attorney-client relationship.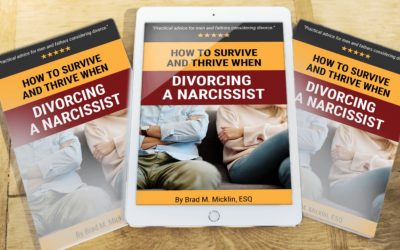 Living with a narcissist can be awful. Divorcing one is a nightmare. They're always right, want everything their way, and leave little room for compromise. How to Survive and Thrive When Divorcing a Narcissist offers…
read more